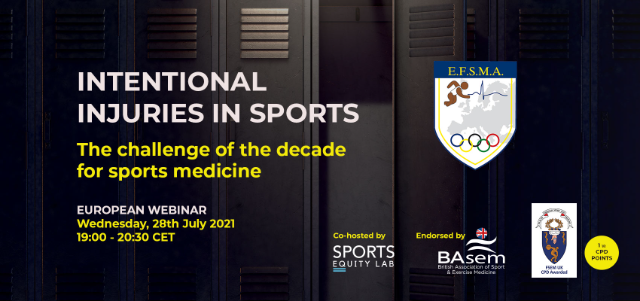 Intentional injuries in sports - the challenge of the decade for sports medicine

"It is time to acknowledge the threat that the abuse of athletes poses to our field and take responsibility"
Date: 28th July 2021
Time: 19:00 -20:30 CET
Where: Virtual Platform
Co-hosted by EFSMA & Sports Equity Laband endorsed by BASEM

The webinar co-hosts Dr Katharina Grimm - Sport Equity LAB - and Dr Dora Papadopoulou - EFSMA Acting Secretary General, along with the panellist Dr Anca Ionescu - Chair of EFSMA Scienfific and Education Commission, invite you to join them and share your thoughts on the 'Primum non nocere' principle applied to athlete abuse in sport.
Athletes around the world are speaking out against abuse. The IOC Consensus Statement harassment and abuse (non-accidental violence) in sport (Mountjoy et al. 2016) alerted to sexual abuse and harassment, physical and psychological abuse, neglect, bullying, and hazing in sport and the severe impact on athlete health and well-being. Intentional violence is defined as "…volitional acts that result in or have the potential to result in physical injury and/or psychological harm."
EFSMA steps up to the challenge and invites you to view a short version of "At the Heart of Gold: Inside the US Gymnastics scandal" with us and learn about the different roles clinicians may play in sports, from the caregiver, therapist, and confidant to enablers and perpetrators.
We look forward to perspectives from the entire continent on how we, as sports medicine clinicians, see ourselves and how we meet the expectations of those who trust in us to protect them from harm.

Conference Objectives
- Raise awareness of abuse in sport
- Acknowledge the different roles clinicians may play in abuse in sport
- Understanding the athlete perspective and needs


Key Features
- International Participation including Mrs Trinea Gonczar, Athlete, survivor, advocate
- FSEM Accredited 1.5 CPD Points
- Free participation